Saudi Arabia certified Class I & II, Level V Efficiency, 3rd Edition 60W (Watt) with 5Vo – 48Vo Desktop / Wall Plug-in, ITE or Medical Grade External Switching AC/DC Regulated Power Supply updated to Saudi Arabia Certificate IEC 60950-1:2005.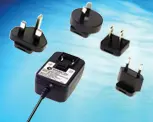 GT(M)-91099-60VV-XX represents GlobTek's 60W hybrid desktop / wall plug-in series family is Globally Certified and Approved LPS Class I or Class II Desktop Power supply which provides nearly complete global coverage for world export markets with the flexibility of changeable input plugs and certified Grounded Class I and non-Grounded Class II off the shelf stock solutions.
This family complies with IEC 60950-1 2nd edition or IEC60601-1 3rd edition and has certifications by UL (North America), C-Tick (Australia/New Zealand), IRAM (Argentina), BSMI (Taiwan), CB (Worldwide), CCC (China), Demko (Europe), eK (Korea), NRCAN (Canada), Spring and PSB (Singapore), SIQ (Europe), CU TR / GOST (Russia), Peru, Colombia and South Africa, SIRAM (Malaysia) and UkrSEPRO (Ukraine). They also comply with Canadian NRCAN efficiency requirements as well as FCC/VCC/CE EMC requirements.
The miniature 117.53x53.47x36.6 mm triple approved ITE(60950-1), Household 60335-1, Medical (60601-1 3rd edition 2MOPP) universal input switching power supply model GTM91099 is available in a Class I, 3 Prong, IEC60320/C14 or Class II, 2 prong double-insulated IEC60320/C8 desktop freestanding configuration. The power supply may be supplied with factory configured or field installable changeable blades in the following configurations: Class II: North America/Japan/China Nema 1-15P, Europe CEE7/16, Australia/New Zealand AS/NZ3112, United Kingdom BS1363 Class I: North America/Japan/China Nema 5-15P, Europe CEE7/7 Schuko, Australia/New Zealand AS/NZ3112, United Kingdom BS1363
The tiny ITE (60950-1) power supply has an input from 90-264VAC 50-60Hz and a factory configurable output of 5VDC to 48VDC output with a max power of 60w continuous output. This product complies with North American Energy Star, Canadian NRCAN, and other worldwide requirements for Level V efficiency compliance and is produced in an ISO13485 certified facility.
In addition to ITE, Medical grade version (60601-1 certified) power supply also has an input from 90-264VAC 50-60Hz and a factory configurable outputs of 5v, 6v, 6.5v, 9v, 12v, 13v, 13.2v, 14v, 15v, 16v, 18v, 19v, 20v, 24v, 36v and 48v as well, as anything in-between with 0.1V increments with a maximum power of 120W continuous output.
Medical units are certified 2MOPP (means of patient protection) which refers to two independent systems of insulation protecting the patient from dangerous voltages. A single insulating component can get this rating based on extensive testing. 2MOPP certifications exceeds the requirements of 2MOOP and this unit may be used for either application.
GTM90199 features Regulated output with very low ripple, built-in over current, short circuit, over-current, and thermal protection as well as low leakage, low ripple, and high efficiency. This family of Industry's highest density wall plug-in AC-DC converters is suitable for most applications requiring DC power which include medical devices, portable medical treatment and monitoring equipment and instruments, hospital equipment and fixtures, high power appliances or consumer products, VOIP phones and telecom equipment and are a perfect power source for rapid Li-Ion battery charging.
Bespoke, customized enclosure colors, housing designs, output cord types and lengths, as well as customized packaging, Open Frame or ruggedized to various degrees of Ingress Protection, such as IP52 or potted IP68 versions are available upon request. According to BS EN 60529 and IEC 529, IP52 signifies that the medical (60601-1) power supply is Protected against dust - limited ingress (no harmful deposit) as well as Protected against direct sprays of water up to 15°C from the vertical. Test reports and certifications as well, as variety of other customizations or options is available upon request.
The power supply can be provided with customer designated output plugs, many of which are stocked at GlobTek New Jersey USA, Münster Germany, and Suzhou China locations. Made in USA or Made in China options available. Local China to China delivery is available upon request. Industry – Leading 5 year warranty Contact GlobTek for a wide range of other Internationally Certified Power Supplies and other Power – related products! 1-201-784-1000 or sales@globtek.us